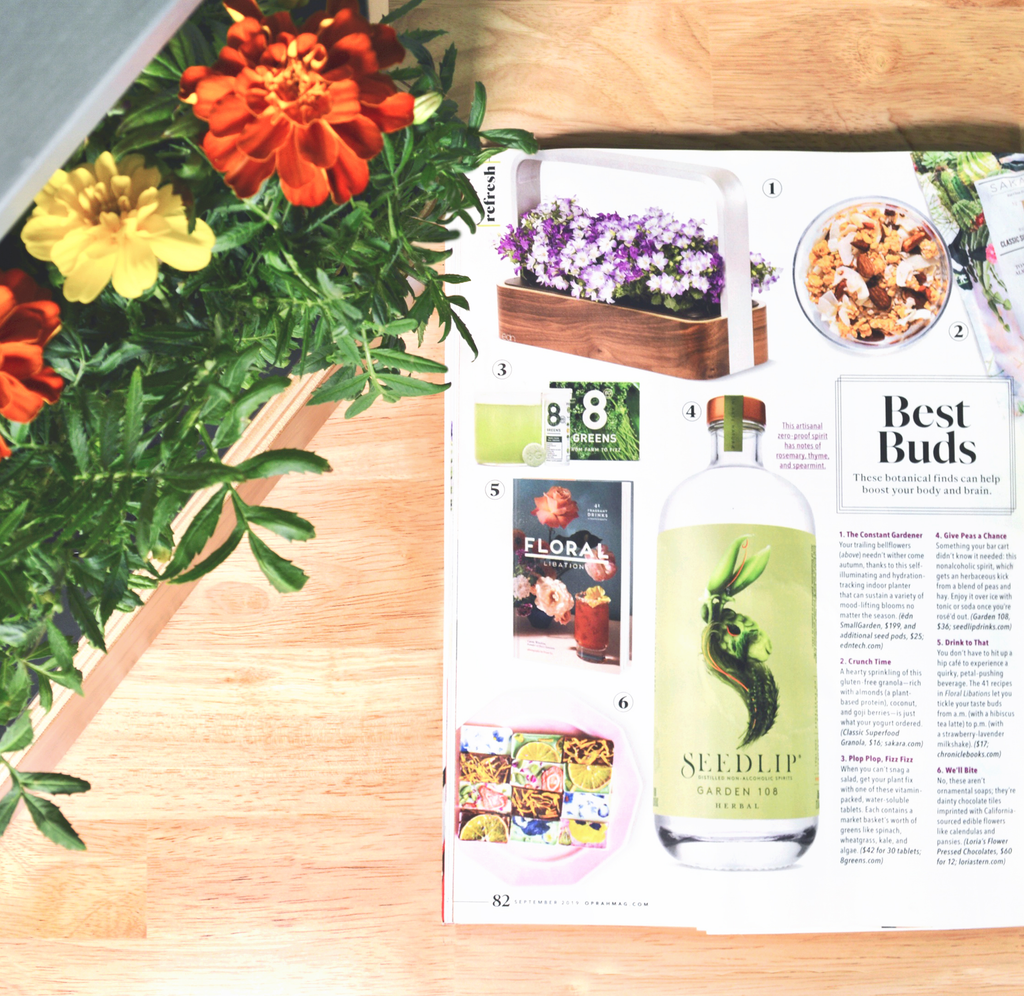 Since its launch in 2000, O, The Oprah Magazine (commonly abbreviated to O) has been articulating various women's topics for the past 19 years. By combining inspirational quotes, motivational stories, intimate interviews, and reviews, the magazine has amassed extensive readership across the globe. Owing to Oprah Winfrey's love for health and nature, she has been on the forefront in promoting healthy living through growing plants and making the switch to plant-based products.
The media mogul keeps her Instagram followers in the loop with her farming endeavors through documentaries that showcase the bountiful harvest of fruits, flowers, vegetables, and other farm products. As a testament of her love and commitment to gardening, Oprah has been featuring various cutting-edge gardening technology in O throughout its publishing. Her latest botanical feature in the O September issue showcases the ēdn SmallGarden. This is an intuitive and forward-looking company that combines state-of-the-art technology, engineering, and sustainable designs to make growing plants indoors easy.
Oprah's Love of Gardening
As a passionate gardener, Oprah displays her obsession with nature, especially when it comes to anything grown in the garden. By featuring a smart gardening company such as ēdn, O stamps its ability to help other gardening enthusiasts around the world connect with nature. Oprah owns an expansive farm on Maui where she grows a variety of fruits and vegetables, including her very own avocado orchard. Through a plethora of pictures and videos shared on her Instagram, the media personality shows off her harvests and motivates others to start planting their own gardens. This depicts how aesthetically appealing and blissful it is to produce something on your own, no matter who you are. 
Besides the fruits and vegetables, Oprah also displays immense love for flowers. At her same Hawaiian property, she has a floral garden that boasts an extensive collection of flowers which feature some of her favorites. These include Hydrangeas (her all-time favorite), which remind Oprah of her grandmother, and Purple Cosmos that she discovered in 1985 in a movie that hits close to home. Other flowers you will find in her beautiful outdoor oasis include Marigolds, Queen Anne's lace, Zinnias, Roses, and Poppies, among many others that make up extraordinary bouquets. 
A Growing Market
Currently, plant-based and botanical ingredients have taken a significant stake in the beauty and wellness markets. In the wake of these developments, sustainability and environmental-friendliness have been the issue. ēdn is one of the few companies bridging the gap to improve sustainable gardening. It understands the importance of eco-gardening, primarily because they offer indoor gardening facilities to those that lack the space, time, or knowledge to grow on their own. By delivering all of the tools that you need to grow plants successfully and guiding you through the journey, ēdn allows you to grow a variety of plants indoors without compromising on design or health. The company provides natural renewable materials that are free of pesticides, herbicides, and GMOs. ēdn understands that sustainability is not just about greening the indoor spaces, but more about impacting our indoor environment and our lifestyles. 
For more information on ēdn and how they're aiming to revolutionize the indoor garden industry, click here.
Written by Lindsey Gallagher